Growing up, the only thing I remember about St. Patrick's Day is wearing green so I didn't get pinched on the playground. Today the holiday is more widely celebrated. And, like most holidays, has become highly commerci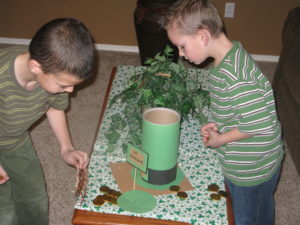 alized. That's fine, though. I like a good excuse to party.
When my kids were young, I read about something called leprechaun traps in a magazine. Up to that point I'd never seen or heard of one. For those who haven't experi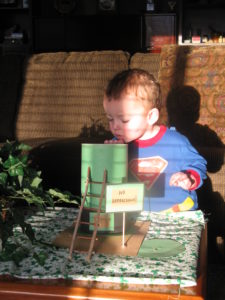 enced it, a leprechaun trap is designed to trick a leprechaun so you can steal his gold.
We've mad a few traps over the years and reused favorites on other years. My kids have never actually caught a leprechaun with their trap, but the trail of gold coins (aka chocolate coins from the bulk section of our grocery store) prove that they've been close.
My favorite St. Patrick's Day by far was the time the kids tried to capture a leprechaun on camera. When it came time for them to go to bed, I heard whispering in the living room where the trap had been set up. Curious, I listened in without them noticing…and I'm glad I did! The sneaky children had set up a video camera in the corner of the room and aimed it at the leprechaun trap set up on the coffee table. Not wanting to spoil the fun for them when they discovered the next morning that their parents were indeed the ones littering the floor with chocolate, my husband and I spent the next way-too-may minutes deleting their video and making a new one. Our video never caught the leprechaun in action, but you can hear a maniacal giggle in the background right before the camera gets tipped over. Then, you hear more giggling as the camera is uprighted, showing that gold coins surround the trap. The kids watched the video over and over and over and…
Okay, maybe we went too far.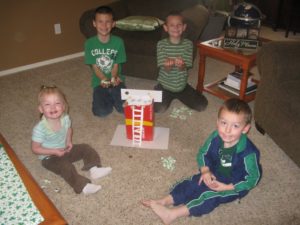 The only other thing we do to celebrate St. Patrick's Day is make Dublin Coddle and Irish soda bread. Have I ever eaten this stuff in Ireland? No. I'm not Irish, and my husband's family is only part Irish, but we can still enjoy cuisine from around the world thanks to Google.
If you'd like some clean reading for your St. Patrick's Day holiday, check out my book A LITTLE BIT OF LUCK. Right now it's only $1.99 on Amazon!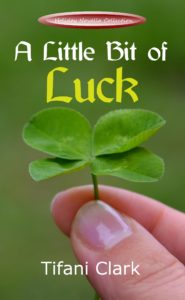 And, as always, if you want to stay updated on my books and other fun stuff, sign up for my newsletter.